You are browsing the archive for 2013 August.
August 1, 2013 in Announcements, Game News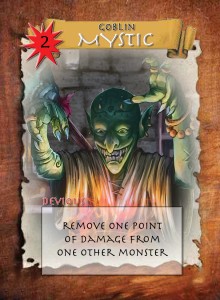 Pillage, Gamer Nation Studios' third game to enter public play testing, will be featured at the EONS launch party on August 11, 2013 at Madness Comics and Games in Plano, TX.  The event is scheduled from 1pm to 6pm and will feature the Lead Designer Brev Tanner showing off the game he has been working on since early 2012.  Pillage is a fast, fun game for up to 4 players in which the players control a race of monsters that attack a village to destroy building and collect resources and victory points.  Sometimes, a monster may run into a knight, or militia and must fight to be able to continue pillaging.  The game can be played in less than 30 minutes and due to the variety of the cards, is different every time you play.
Join us in the first public play test of Pillage! on Sunday, August 11.  The game will also be featured at GENCON on August 15th in a public play test that will tell us when this game will be ready for market.  The current plan is to play test for 90 more days, make edits and launch a kickstarter funding campaign in Q4, 2013.  Production is slated to begin and the game published in January or February, 2014.